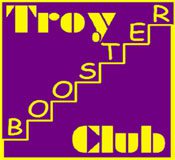 TROY BOOSTER CLUB INC.
c/o 1950 Burdett Avenue, Troy, NY 12180
troyboosterclub@troycsd.org
The Troy Booster Club is a not-for-profit corporation of volunteers working to support extracurricular activities that engage Troy Middle School and Troy High School youth in visual and performing arts, sports, cultural diversity and citizenship.
2019-2020 Meetings
All meetings are held in the Troy Middle School Library and begin at 6 p.m.:
Tuesday, October 8
Tuesday, November 12
Tuesday, January 14
Tuesday, March 10
Tuesday, April 7
Tuesday, May 12
Tuesday, June 9
Troy Merchandise
To order Troy City Schools merchandise, please contact eculnan1@yahoo.com.
Mission Statement
Troy Booster Club supports the extracurricular and co-curricular activities which enrich the educational experience of Troy High School and Troy Middle School students. Troy Booster Club members are parents and concerned citizens who value a well-rounded educational experience Troy Booster Club raises money to enrich the activities which engage Troy youth in visual and performing arts, sports, cultural diversity and citizenship. The Troy Booster Club believes all of these activities are essential to fostering leadership qualities in today's youth.
Volunteer
The Troy Booster Club is in search of volunteers to help us to grow the organization. At Troy Middle School and Troy High School, we strive for excellence and we know you do as well. Please consider getting involved in your child's education through the Booster Club. There are a number of exciting events to participate in. Please join us by contacting one of the officers listed on the Board Members page. We can't do it without you!
TBC sponsored Events
Troy School District Spelling Bee
THS and TMS Winter Concerts
THS Soccer & Basketball Concessions
THS Black History Day
THS and TMS Spring Concerts
Annual THS Spring Musical Performance
THS Annual Varsity Sports Award Ceremony
For email communication please be sure to forward a message to troyboosterclub@troycsd.org stating you want to be added to the TBC mailing list.
Troy Booster Club Inc. is a NYS 501-C-3 not-for-profit organization.