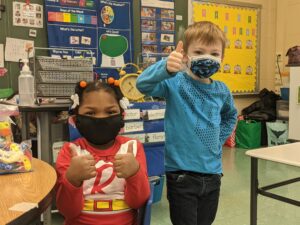 Julianna L. Currey
Coordinator of Grants and Funded Programs
Enlarged City School District of Troy
475 First Street (3rd Floor)
Troy, NY 12180
518-328-5436
Troy's Prekindergarten Programs provides a nurturing environment where children are excited to learn and discover.
Request for Proposals – 2022-2023 UPK Programs
Essential Skills for Incoming Kindergarten Students
3-Year-Old Pre-K
The full-day program, located at School 2, School 12 and Sacred Heart School, is based on need. Learn more. 
4-Year-Old Universal Pre-K
The full-day program is located at School 2, School 12 and School 14, CEO and Sacred Heart. The pre-kindergarten program is funded through a grant from New York State. Learn more. 
Registration
Registration for the 2022-2023 school year begins February 28, 2022. Due to the COVID-19 pandemic, we are not offering in-person registration. Only completed applications with required documents* will be accepted. Visit our Registration page for details.
*Required documents: Health certificate (proof of physical) signed by a doctor, up-to-date immunization records, copy of child's birth certificate, proof of residency (National Grid bill, lease agreement or mortgage statement each showing parent/guardian's name) and photo identification of parent/guardian