We are always looking for more information regarding Reunions or Alumni organizations. The Troy High Alumni's main Web Site is www.classcreator.com/troy-ny-1900.
If you are planning, been invited to, or have heard about a reunion for a Troy High School Year, please email Jason Laz, Communications Specialist, at lazj@troycsd.org. Please help us make this page more informative and include more graduates of Troy High. Thank You!
Reunion Information
Class of 1992 30th Reunion
Saturday, November 26, 2022
Philly Bar & Lounge
22 Watervliet Shaker Rd, Latham, NY 12110
Appetizers, buffet dinner, dessert and cash bar
$50 per person, payment due by Nov. 16. Venmo preferred via darcyrockwell@gmail.com
Contact Darcy Rockwell darcyrockwell@gmail.com
Class of 1971 50th Reunion
Saturday, Sept. 17, 2022
The Franklin Plaza 3rd Floor Rooftop *Business Casual Attire*
Contact Mike Whalen (518) 274-5423
Registration Form here
Class of 1969 50 Year Reunion
October 12, 2019
Hilton Garden Inn, Hoosick St. Troy
Contact Ray Clemente 518-383-1875 rpclemente@aol.com or Pat Evans Fox 518-283-6027 pjf214@hotmail.com for further information and details.
Class of 1972 and 1973 reunion 
October 5 – 7, 2018
https://www.classcreator.com/Troy-New-York-1973/class_index.cfm
https://www.classcreator.com/Troy-NY-1972/
Class of 1988 30 Year Reunion 
August 18, 2018
Hilton  Garden Inn on Hoosick St. in Troy
6 – 10 p.m.
Purchase Tickets Here.
Class of 1983 35th Year Reunion
Friday, November 23, 2018
Franklin Plaza, Troy, NY
Click here for details.
Class of 2006 10 Year Reunion
Saturday, November 26, 2016
Please join the class of 2006 as we celebrate our 10-year Reunion at Franklin Terrace Ballroom in Troy. Tickets are $67. Click here for details.
Class of 1986 30 Year Reunion
Friday, November 25, 2016
Please join the class of 1986 as we celebrate our 30th class reunion at Moscatiello's Italian Restaurant on Friday,November 25, 6 – 10 p.m. Tickets must be purchased by November 17. Click here for details.
Class of 1966 50th Class Reunion
Saturday, October 15, 2016
Classmates must send in their dinner and event registration information and payment no later than July 10. For details, please visit the THS '66 website at http://www.classcreator.com/Troy-NY-1966/
Class of 1989
THS Graduates are invited to the 25th Reunion on July 19th at 7 pm.  O'Brien Public House (formerly Trojan Hotel), Downtown Troy.   Great food and entertainment for $30.00.   Email to Yankalar@hotmail.com for more information.  All THS classes invited!
Class of 1964
The Class of 1964 celebrated it's 50th Reunion in Troy during the weekend of September 19, 2014. With lunch at Illium Cafe, lots of festivities in downtown Troy, a dinner dance, brunch on the Captain JP, and a tour of THS. Please visit the Troy CSD Facebook page for photos of the THS tour and to see all of the great things happening at your alma mater!
Class contacts: Mary Ann Giordano Ryan 283-5997 or Marilyn Petruska Niles  439-3404.
Class of '57 Honors Classmates
THS Class of 1957 honored their deceased classmates with the donation of a memory bench now located in the high school library. We thank alumni Sheila Sullivan, Michael Dwyer, George Doodian, Carolyn Chenot, Diana Malkonian and Deanna Cioffi. (11-8-13)
Classes of 1972 & 1973
Held their 41st and 40th reunion Saturday, August 10, 2013 at the Hilton Garden Inn, Troy NY.
For more information email Theresa Crisp, Joyce Margolin or Henry Bisner if you are from the class of 1972; or email Sharon Bisner if you are from the class of 1973.
Class of 1986
Held their 25th Reunion on Friday, November 25, 2011.
For more information email: troyhigh86reunion@gmail.com – we are also on facebook.
Class of 1985
Held their 25th Reunion on June 12, 2010.
Contact person Melissa (Nichols) Shufon 518-588-7134 or email mms666@aol.com.
Class of 1960
Held their 50th Reunion on October 1-3, 2010.
Ronnye Shamam (Berg)……….  ronnye@shamron.com………Phone:  917-282-2300
Steve Thomas………………………. srthomas99@yahoo.com…Phone:  614-256-2927
Bobby DeFriest……………………. panachepri@aol.com……….Phone:  954-621-6341
Connie Rapp……………………….. rappzod@sbcglobal.net……Phone:  714-838-8940
Class of 1980
Held their 20th Reunion on August 7, 2010.
Coordinators: Eileen Buckley, Gina Rinaldi DePriest & Charlotte Morton Sevazlian (csevazlian@gmail.com)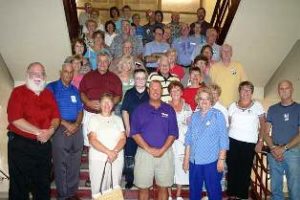 Class of 1957
(Pictured here) THS Assistant Principal Pawlusiak with the THS Class of 1957 as they celebrated their 50th Reunion from September 7 to 9, 2007. A fun weekend was planned to include 9-hole golf tournament, welcome reception and cocktail party at Brown's Brewing Co., a tour of Troy High School, and Saturday Evening Dinner Cruise on the Capt. JP II.