Jeremy Jasper, Director of Facilities & Security
1950 Burdett Ave, Troy, NY 12180
518-328-5426
Troy School District facilities are available to community groups for events and activities. Groups interested in applying for facility use should fill out the online form at least 14 days prior to their event.
Community groups are required to complete a  Use of Facilities Form
Please note that facility use will only be approved consistent with Board policy and applicable law. School activities, such as interscholastic sports and club events, will have first priority over outside groups, including events that need to be rescheduled. Use of facilities is not guaranteed and may not be approved for: failure to pay the facilities use fee in a timely fashion, previous damage or vandalism to school facilities, and conflicts with school recess periods, holidays, or scheduled construction/renovation.
Building Modernization Project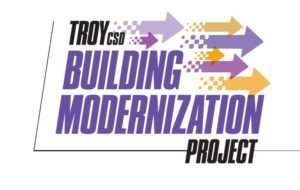 in 2019, residents voted in favor of authorizing a $56 million capital project that will include necessary upgrades to nearly every building in the District as well as the purchase of an additional building. The "Troy City School District Building Modernization Project" will be financed without impacting the current tax levy. Learn more by visiting www.troycsd.org/BuildingModernizationProject
Fire Hazard Inspections Notice
Notice is hearby given that the annual inspection for the 2019-2020 school year of the Troy City School District for fire hazards which might endanger the lives of students, teachers, employees therein, has been completed and the report thereof is available at the Facilities Office for inspection by all interested persons.
District Level Safety Plan
2022-2023 District Level Safety Plan
Asbestos Notification
Written notice must be annually provided to parents, teachers, and employee organizations of the availability of asbestos management plans, and any current or planned asbestos inspections, response actions and post-response actions. More information.