Click here to download a PDF of this information
---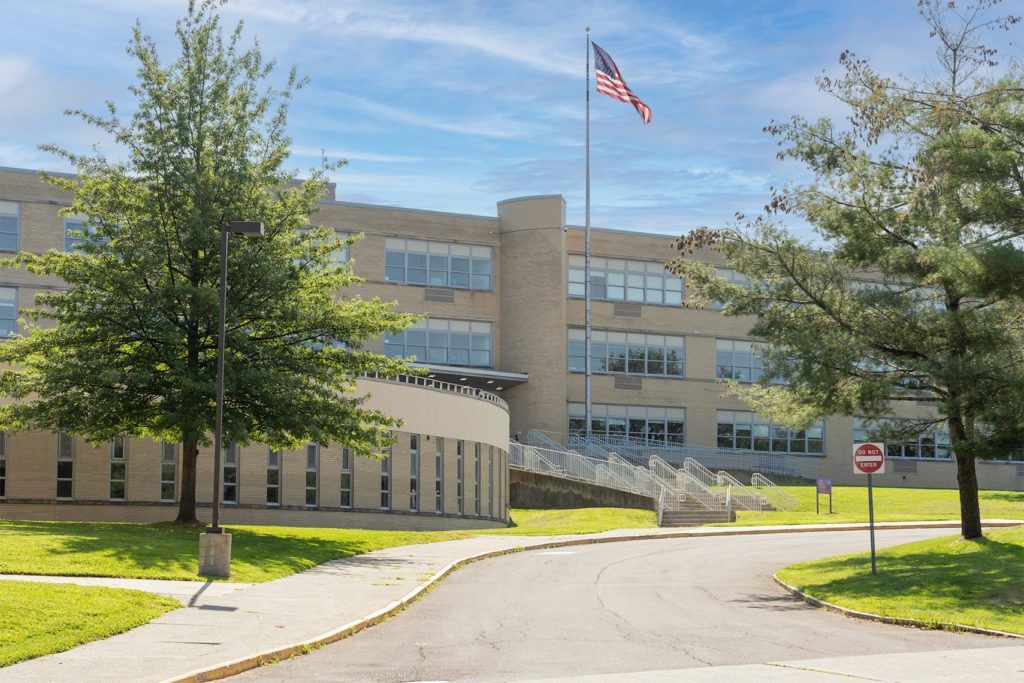 Troy High School
1950 Burdett Avenue
Troy, NY 12180
(518) 328-5400
Principal
Mr. Joseph Mariano, Jr.
Assistant Principals
Mr. Ryan Meikle
Mr. Chris Stack
Counseling Staff
Mr. James Canfield, Director
Ms. Heather Gelatt
Mr. Bradley Kasper
Ms. Riley Long
Ms. Ikea Witt
Mr. Brendan Bradt
---
Mission
Under the guidance of a visionary and dedicated staff and an involved community, the mission of the Enlarged City School District of Troy is to provide quality diversified educational programs that graduate individuals who possess the skills necessary for life long learning and the knowledge and expertise to be contributing members of a rapidly changing society.
Academics
Troy High School is a comprehensive, four-year public high school with an approximate enrollment of 1100. The curriculum includes course work in Honors, Regents and 7 Advanced Placement Level classes. Troy High also offers 19 college credit bearing courses through the University in the High School Program in conjunction with HVCC and SUNY Albany. Students may earn diplomas designated as regents, regents honors, regents with advanced designation, local and technology/trade certification. Our grading system is based on a scale of 0 to 100% and is Unweighted.
2023 Graduating Class Summary
Number of Graduating Seniors: 269
Types of Diplomas
Regents: 182
Regents w/ Designation: 51
Regents w/Honors: 5
Regents Honors w/ Designations: 23
SACC: 6
Mastery in Math: 12
Mastery in Science: 4
Mastery in Math & Science: 15
Post-Graduation Plans:
Higher Education: 73%
Employment: 15%
Military: 1%
Other Post Secondary Plans/Trade School: 7%
Undecided: 4%
SAT I Reading/Writing Mean: 545
SAT I Math Mean: 539
Sports at Troy High School
| | | |
| --- | --- | --- |
| Girls' Athletics | | Boys' Athletics |
| Fall |   | Fall |
| Cheerleading | | Football |
| Cross Country | | Cross Country |
| Soccer | | Soccer |
| Volleyball | | Golf |
| Tennis | | Winter |
| Swimming | | Basketball |
| Winter |   | Indoor Track |
| Cheerleading |   | Bowling |
| Basketball | | Spring |
| Indoor Track | | Baseball |
| Spring | | Track |
| Softball |   | Tennis |
| Track | | Lacrosse |
Activities
Art Club
Masterminds
Career Pathways
Music Club
Challenger

(School Newspaper)

National Honor Society
Dardanian
Performing Arts
Drama Club
ROYBGIV
E-Sports
Ski Club
French Club
Spanish Club
Italian Club
Student Council
Jr. Sr. Class Advisors
Students/Envir.  Action
Key Club
 
THS students have been accepted to the following colleges in 2023:
Adelphi University
Albany College of Pharmacy
American University
Anna Maria College
Arizona State University
Assumption University
Baltimore Community College
Baypath University
Bentley University
Binghamton University
Boston University
Bryant & Stratton College
Bryant University
Chicago State University
Clark Atlanta University
Clarkson University
Clemson University
Colgate University
College of Charleston
Columbia University
Connecticut College
Cooper Union
Cornell University
Dean College
Elmira College
Emerson College
Endicott College
Fordham University
Franklin University
Georgia State University
Hartwick College
Hudson Valley Community College
Ithaca College
Kean University
Keuka College
LeMoyne College
Lincoln University
Loyola University
Manhattan College
Maria College
Marist College
Massachusetts College of Liberal Arts
Montclair University
New Jersey Institute of Technology
New York Institute of Technology
Niagara University
Northeastern University
Pace University
Paul Mitchell
Penn State University
Pratt University
Rensselaer Polytechnic Institute
Rhode Island School of Design
Robert Wesleyan College
Rochester Institute of Technology
Russell Sage College
Rutgers University
Schenectady County Community College
Siena College
St. John Fisher College
St. Lawrence University
Stonybrook University
Alfred, SUNY
Brockport, SUNY
Cobleskill, SUNY
Cortland, SUNY
Geneseo, SUNY
Morrisville, SUNY
New Paltz, SUNY
Oneonta, SUNY
Oswego, SUNY
Plattsburgh, SUNY
Purchase, SUNY
Southern Connecticut State University
Syracuse University
The College of Saint Rose
Tufts University
Tulane University
Union College
University at Albany
University at Buffalo
University of Connecticut
University of Hartford
University of Maine
University of Miami
University of Rhode Island
University of Rochester
University of Springfield
Wesleyan University