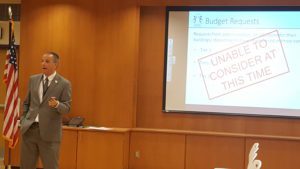 During the February 14 Board of Education meeting, Superintendent John Carmello presented Draft 1 of the 2018-2019 school district budget. At $113,160,546, Draft 1 is 1.02% more than the current year's budget, but there is still a $2.3 million shortfall without proper State Aid.
Carmello explained that the increase is due to increases in retirement rates, charter school tuition, contractual salary increases and large increases in health benefits.
This year, the District's tax cap is 1.84 percent, but will only generate approximately $665,909 in additional revenue. This means the District desperately needs an appropriate increase in State Aid in order to balance the budget and stay at or under the tax cap.
"At this point we are simply looking to maintain the current programs we have," said Carmello. "We cannot consider any departmental budget requests at this time."
The next steps in the budget development process will be to continue to look at creative ways to fund programs as well as increase advocacy efforts with state legislators, particularly for Foundation Aid.
Draft 2 of the 2018-2019 budget will be presented at the March 7 Board of Education Meeting at Troy Middle School.
The Troy City School District community will vote on an adopted budget on Tuesday, May 15.
View Superintendent John Carmello's Draft 1 Presentation.