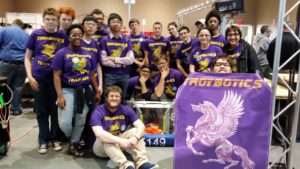 The Troy High School Robotics Team participated in the New York Tech Valley Regional FIRST Competition at Rensselaer Polytechnic Institute March 17 – 19.
For the first time, the Troy High School team advanced all the way to semi-finals.
"This was the furthest the team had been and all of the students were very proud, and I was very proud of all they have accomplished," said the team's coach, Christopher Wolff.
Troy Record – Annual robotics competition brings high schoolers to RPI
Students worked with teachers and other mentors to design, build, program and test their robots to meet the standards of the competition. Teams gathered in the center of the arena to compete against the clock to complete a series of tasks that involved autonomous, teleoperated and alliance activities.
This year's competition required contestants to build enough steam pressure to launch neon green balls into buckets at each corner of the field. They also guided their robots to transport gear from team members on the sidelines to their airship in the center of the field before lifting their robot via a rope attached to the airship.
The success of the robots is reliant on students' math and science skills, as well as their cooperation and teamwork with fellow students and teachers.