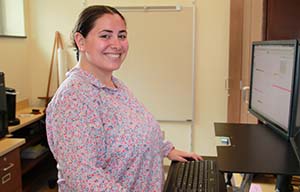 The Troy City School District is pleased to introduce Erin Sheevers as the new director of technology. In a district where the integration of technology into the classroom is a priority, Sheevers brings with her a wealth of experience and ideas to continue moving the District forward.
Most recently, Sheevers was the director of technology for the Coxsackie-Athens Central School District. Prior to that she worked for the Bethlehem Central School District as a technology integration specialist and technology consultant where she coordinated iPad integration for special education students allowing them to function at a higher level.
As she will tell you, she is first and foremost an educator, as she began her career as an American Government teacher. Her goal is to help teachers integrate technology into their classrooms.
"The goal is to provide support to teachers so their students can learn basic technology and critical 21st Century Skills."
The skills she refers to include problem solving and communication, all of which are reliant on technology in higher education and in professional settings.
"No matter what you do, you need technology," she said. "It's no longer an option."
Sheevers said she is impressed with Troy's infrastructure, already in place. The $8.4 million bond referendum approved by voters in 2013 included various interactive instructional technology for classrooms, wireless Internet inside and outside all buildings, as well as network upgrades and security enhancements.
"The bandwidth, the hardware – it's solid infrastructure and I believe that Troy is ready to fly!"
Sheevers is responsible for managing the technology office staff as well as the technology coaches who deliver the daily embedded professional development. She hopes to hold a technology camp for teachers this summer as well.
"I really believe that technology is the tool to close the learning gap," she said. "Everything ties back to educating our students in the best way we know how."
Sheevers received her Bachelor of Arts from Le Moyne College in Political Science, History and Education. She holds a graduate certificate in Leadership in Technology Integration from Johns Hopkins University. She also holds a Master of Science in Instructional Technology and Curriculum Development as well as an Educational Administration and Policy certificate from the University at Albany.