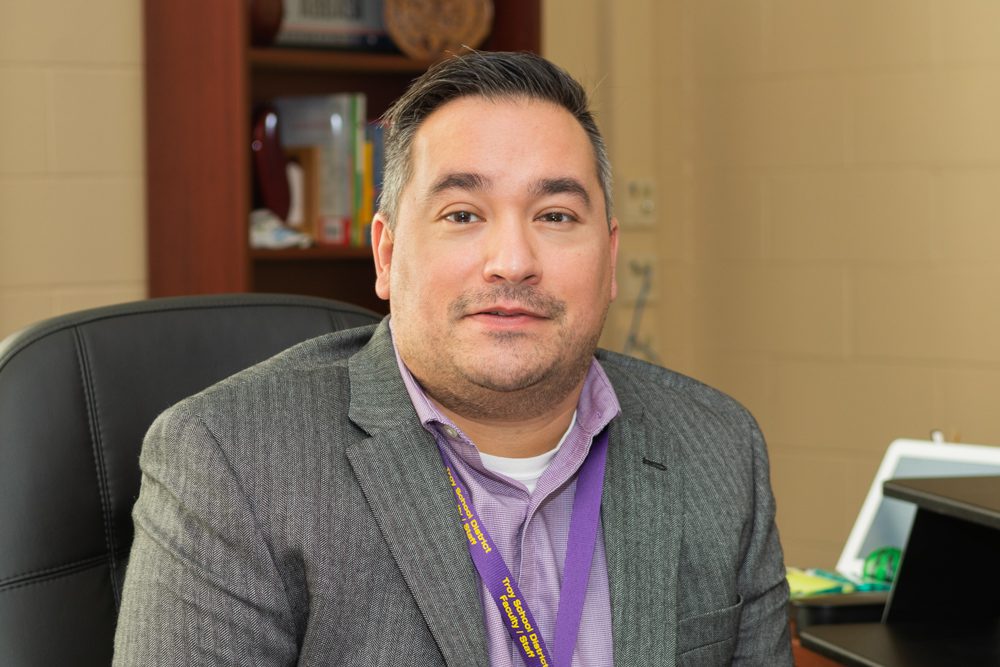 Mr. Imran Abbasi was recently appointed by the Troy CSD Board of Education as the district's Assistant Superintendent for Human Resources. With a background as a social studies teacher and school administrator, as well as a love for city school districts, Mr. Abbasi is excited to be part of the Troy CSD community. Read the short Q&A below to get to know more about him.
Tell us a little about yourself – your background, education, experience, and how you ended up in this role.
I began teaching in the Albany City School District, working primarily in Alternative Education/Social Studies. I also taught social studies in Bethlehem CSD. After teaching, I went into building administration, first as an assistant principal and then I spent three years as the Voorheesville High School principal before going to Schalmont CSD as High School Principal there for six years. The last two plus-years I was the director of Social Studies, World Languages and ENL for Niskayuna CSD.
My background in teaching, building administration as well as district administration got me interested in the role of human resources and its impact on how schools operate and educate their students. Finding and keeping the right people for the different roles in schools is imperative for schools to function in all areas. With COVID and its impact on employment, I saw this area as one of the biggest needs in education and felt I could make a positive impact in this role. I also sit on the Advisory Council at Clarkson University and have spent time at the University at Albany and Siena College helping to work with and mentor new teachers into the field; connections that I hope can help us with our hiring needs as we move forward.
What attracted you to the Troy City School District?
Having grown up in Albany and as an Albany High School graduate, I always appreciated city schools and their unique advantages and challenges. I wanted to return to a role in a city school district, and Troy has a tremendous reputation as a city school with a great community feel because of its engaged staff and great students. Also, as a kid my mom worked on River Street in Troy, so while I lived in Albany, I also spent a considerable amount of time in Troy as a kid and fell in love with the city.
What are your goals for your first few months?
To learn as much as I can about the HR function here in Troy and how I can use my previous experiences to help that process in order to help retain and bring in the best people for positions in the district. Ultimately, the function of HR is to put adults in the best position to be successful to support students, so my goal is to be well on that track as soon as I can.