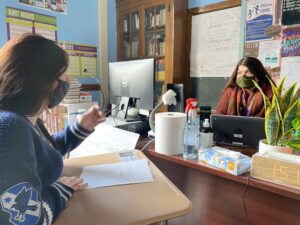 Introducing Alex Boswell. Alex comes to us after several years of teaching in Albany's Alternative Learning Program. We are lucky enough to have her teaching 9, 10, 11, and 12th grade ELA to our students. One of our Student Council members, Cora Just, had a few questions for Ms. Boswell.
Q: What do you like about School 12?
A: I like the small class sizes, the positive relationships everyone has with each other, and the willingness all of the staff has to do everything they can for our students. We collectively try to create a special environment where every individual is valued and can experience success.
Q: What is something you will remember from your 1st year at School 12 or your best memory?
A: I will always remember how welcoming staff and students were when I first started and that I started at School 12 during COVID-19!
Q: What are your favorite things about the students at School 12?
A: Our students are awesome! Honestly, I feel lucky to be a teacher at School 12 because of the students. Each person shows up throughout the school year with their own story, their own sense of resiliency, their own skills and talents, and something unique about them to appreciate. Seeing how much our students at School 12 grow into their greatness over time makes me proud.
Q: What do you do in your spare time?
A: I like reading, creative writing, listening to true crime podcasts, being outside, and being involved in my community. One of my favorite things to do to unwind from work is cooking or baking with my favorite music playing. I also work to continue to educate myself in a lot of my spare time.