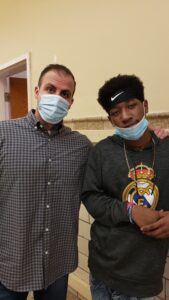 Syncere was one of two Students of the Month for March. This is Syncere's second year at School 12 and he is in the 9th grade. We are all very proud of him for the progress he has made. 
 Good job Syncere!
Q: How has School 12 helped you?
A: This school has made it easier for me to get my work done because there are way less people. Classes are smaller so teachers can teach more and have more time to focus on the ones that need help. When I came here I wouldn't listen, I'd act up and I wouldn't do my work. I've changed a lot. I can come here and people actually listen. I feel more supported here. I feel like it is more than just a school, it's like a 2nd home.
Q: Why do you think you are successful here?
A: There is always someone to lend a hand. There is always someone to help me find out who I am.
Q: What is your favorite class and why?
A: I love all my classes but my favorite is Global 9 with Mr. Millington. He always asks how my day is, you can always joke with him and he gives work that is meaningful and applies to our lives.
Q: If you could be anything, what would you be?
A: I would be a businessman… the one that owns multiple properties and businesses like restaurants. I want to help other business owners get started and grow.