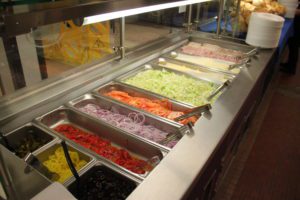 Long gone are the days where ketchup was considered a vegetable for school lunch. Today's school lunches are healthy, and the kids like them, too.
This year, the Troy City School District welcomes Whitson's School Nutrition as its food provider. The change comes with a lot more choices to keep kids full with the nutrition they need.
Some of the additions include a deli line similar to the kind you see at Subway restaurants where students can pick and choose from an assortment of toppings. The lunch meat is from Boar's Head and contains no gluten, artificial colors or flavors, MSG added, by-products or fillers, or trans-fat.
Food Service Director Rich Hollander said in the high school alone, the cafeteria team is serving 50-100 more lunches a month.
"More students are getting the nutrition they need right here in Troy schools and we know that helps them pay attention and succeed in class where it counts," he said.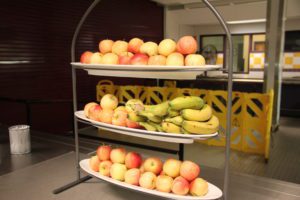 Other additions include a daily pizza assortment and salad bar in addition to the items served in the hot food line. A healthy snack program stocked with items low in fats and sugars as has also been added.
The United States Department of Agriculture (USDA) Department of Defense (DoD) Fresh Fruit and Vegetable Program allows schools to buy fresh produce as opposed to canned items.
Coming soon, Hollander said the high school and middle school will begin "What Up Wednesdays," a breakfast program that features a surprise menu. Students must come to the cafeteria to find out about the special. Menu items may include items such as a scrambled egg bar or Belgian waffles.
As always, our school lunches meet state and federal nutrition guidelines for healthy kids. All Troy CSD students receive free breakfast and lunch.
More information about Whitson's available here.