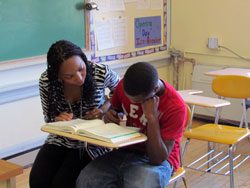 School 12
475 First Street, Troy, NY 12180
Phone: 518-328-5075
Fax: 518-279-7600
Donna Fitzgerald, Director of Pupil Personnel Services
Phone: 518-328-5006
Dr. Amy Prabhakaran, Assistant Director of Pupil Personnel Services
518-328-5057
Special Education Programs and Services Focused Review
March 10, 2017 – The New York State Education Department's Office of Special Education has completed a Special Education Programs and Services Focused Review in the Troy City School District during the 2016-2017 school year.  This review examined the district's compliance with selected federal and State laws and regulations governing the education of students with disabilities.
The review was conducted by the Special Education Quality Assurance (SEQA) Eastern Regional Office.  The review process involved a review of school records of a representative sample of students with disabilities, classroom visitations, interviews of parents and staff surveys.  Meetings of the committee on special education were also observed.
A copy of the report may be reviewed in the Office of Pupil Services, located at 475 First Street Troy, NY.
Committee on Special Education
Karen Driscoll – CPSE/CSE Chairperson – Preschool, Day Program Schools
Kerri Klinowski – CSE Chairperson – Elementary Schools
Catherine Guthrie – CSE Chairperson – Middle School, School 12, Charter and Private Schools
Colleen Syrett – CSE Chairperson – High School
Holly Toteno – CSE Chairperson – Questar III/BOCES