Troy City School District residents approve budget, elect Board members
Troy City School District residents have approved a $114,174,990 budget for the 2019-2020 school year.
The unofficial results of the budget vote are 561 (yes) to 141(no). Anne Wager-Rounds and Ann Apicella have been re-elected to the Board of Education. Ebony Pompey-Conway has also been elected. Learn more. 
Official Results
Official results of the 2019-2020 Budget Vote and Board of Education Election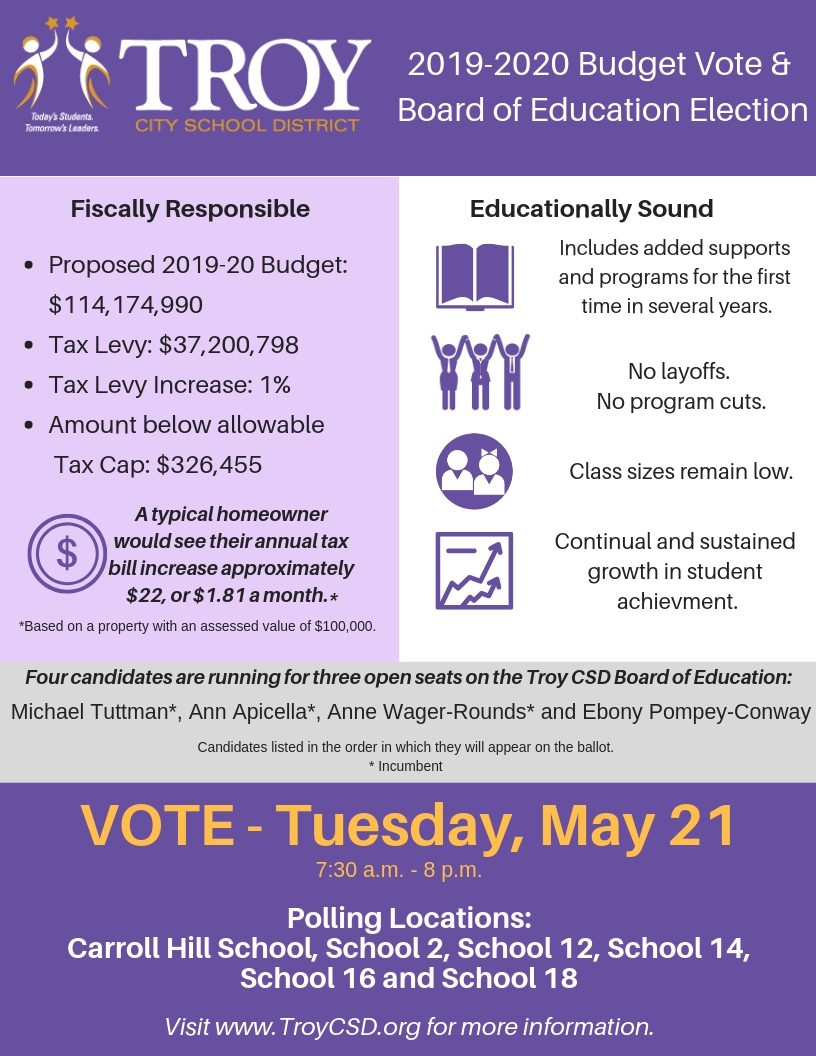 Board of Education Election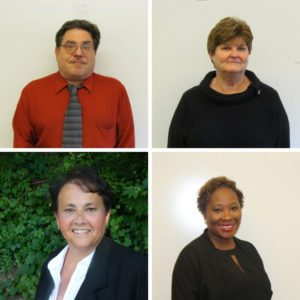 Four candidates are running for three seats on the Troy City School District Board of Education in the May 21, 2019 election. Three candidates will be elected to three-year terms commencing on July 1, 2019 and expiring on June 30, 2022. The candidates are listed in the order in which they will appear on the ballot: Michael Tuttman, Ann Apicella, Anne Wager-Rounds and Ebony Pompey-Conway. Learn more about the candidates on our Board Candidates page. 
Presentation Schedule
Monday, May 6
School 2 at 2:30 p.m.
School 18 at 6 p.m.
Tuesday, May 7
School 14 at 5:30 p.m.
Carroll Hill at 6:15 p.m.
School 16 at 6:30 p.m.
Wednesday, May 8
BOE Meeting includes:
Town Hall Meeting for Budget Hearing/Meet the Candidates
TMS Troy Room 6:30 p.m.
Tuesday, May 14
THS/TMS Booster Club
TMS Media Center 6:30 p.m.
Polling Sites
SCHOOL 2 – Middleburgh & Tenth St.
SCHOOL 12 – 475 First St.
SCHOOL 14 – 1700 Tibbits Ave.
SCHOOL 16 – Collins & Walker Ave.
SCHOOL 18 – 412 Hoosick St.
CARROLL HILL – 112 Delaware Ave.
Find your polling location.
Poll Hours 7:30 a.m. to 8 p.m.
Call 518-328-5070 if you have questions about your polling location.
Voter Information
Voter Registration Day.  If you are NOT registered to vote with the County Board of Elections, you must register with the District's Board of Registration to qualify.  Voter registration will be held on Tuesday, May 7  at School 12 (475 First Street) from 12 Noon – 4 pm.  ID is required.
Applications for Absentee Ballots are available.  If you are unable to vote on May 15, please request an Application for Absentee Ballot from the BOE Office at 328-5070 or boe@troycsd.org.  Applications must be received at least 7 days before the election if the ballot is to be mailed to the voter, or 1 day before if the ballot is to be delivered personally to the voter.
Nominating Petitions Available  Troy City School District residents who are interested in running for a Board of Education position should contact the Board of Education Office at 518-328-5070 or email boe@troycsd.org to request nominating petitions.   Please see BOE Election page for more information.
Budget Newsletter
News
Board adopts budget; 1% Tax Levy Increase, includes added supports and programs
Draft 3 of budget includes added supports, 1% tax levy increase
Presentations
Budget Statement
2019-2020 Budget Development Calendar
1/16/19
6:00 PM
BOE Workshop PS 18 Budget Discussions (Tax Cap, Projected Budget, Advocacy)
2/06/19
6:30 PM
BOE Meeting TMS Budget Discussions – Draft 1 and Governor's Proposal
3/06/19
6:30 PM
BOE Meeting TMS Budget Discussions – Draft 2
4/03/19
6:30 PM
BOE Meeting TMS Budget Discussions – Draft 3 (if necessary)
04/16/19*
6:00 PM
BOE Workshop PS 12 Adopt Budget
04/29/19
Property Tax Report Card/Administrator Salary Disclosure DUE – Final Budget Available to the Public
5/08/19
6:30 PM
Budget Hearing TMS Town Hall Budget Hearing / Meet the Candidates
5/10/19
Mail Budget Newsletter with Notice
5/21/19
Budget Vote
5/22/19
6:00 PM
BOE Workshop TMS Certify Budget Vote