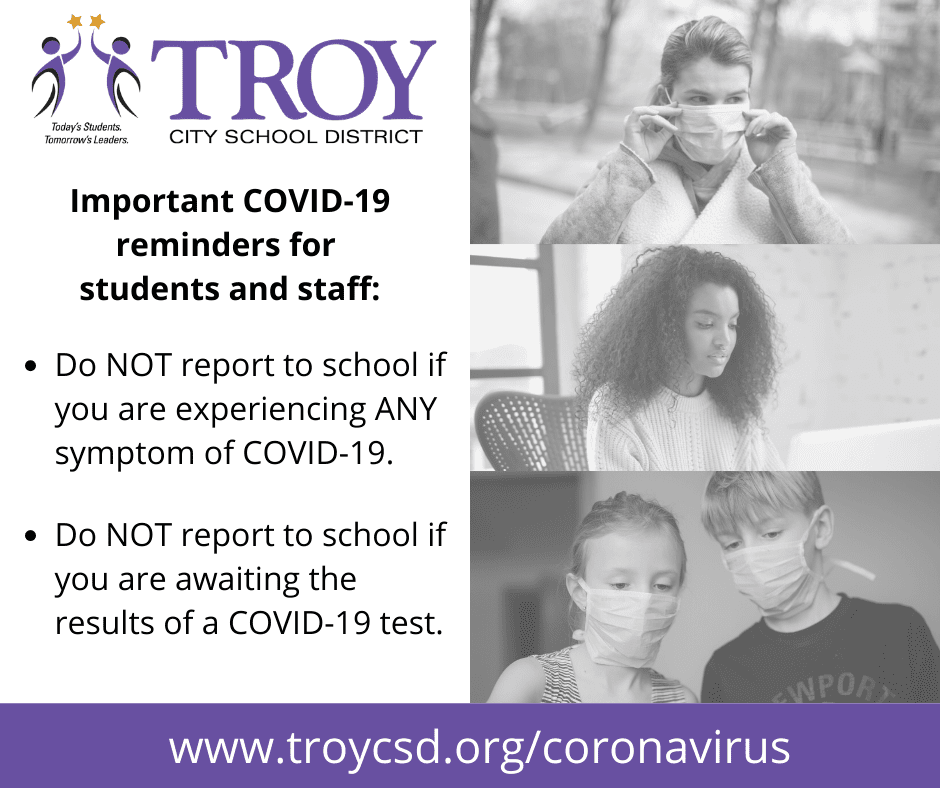 Registration deadline extended! COVID-19 Vaccination Opportunities – Students Age 16+
April 13 COVID-19 Update: Several individuals test positive over spring break
March 12 COVID-19 Update: Two remote THS students test positive
February 25 COVID-19 Update: TMS/School 16 bus driver tests positive
February 23 COVID-19 Update: Several individuals test positive, no district exposure
February 22 COVID-19 Update: Several Individuals test positive, no district exposure
February 19 COVID-19 Update: Several individuals test positive, no district exposure
February 11 COVID-19 Update: THS/TMS staff member tests positive, no district exposure
February 10 COVID-19 Update: Several individuals test positve
February 5 COVID-19 Update: Several individuals test positive
January 29 COVID-19 Update: Several individuals test positive
January 25 COVID-19 Update: School 18 bus monitor tests positive
January 23 COVID-19 Update: Several individuals test positive
January 22 COVID-19 Update: Several individuals test positive
January 20 COVID-19 Update: Several indivduals test positive
January 18 COVID-19 Update: Several individuals test positive
January 18 COVID-19 Update: Several individuals test positive
January 13 COVID-19 Update: Several individuals test positive
January 10 COVID-19 Update: Several individuals test positive
January 8 COVID-19 Update: Several individuals test positive
January 6, 2021 COVID-19 Update: Three individuals test positive
January 6, 2021 COVID-19 Update: Several individuals test positive
COVID-19 Update: Several individuals test positive, no district exposure
COVID-19 Update: Four students test positive, no district exposure
COVID-19 Update: Two Troy High students test positive; no district exposure
COVID-19 Update: Positive cases in ALP, School 14, TMS and THS
COVID-19 Update: School 16 student tests positive, building to pivot to remote learning for remainder of week
COVID-19 Update: Positive cases from Troy High School, School 16
COVID-19 Update: Individuals from School 12 and TMS test positive
COVID-19 Update: Remote students from THS and School 16 test positive
COVID-19 Update: Remote student from Troy High School tests positive
COVID-19 Update: Remote student from School 18 tests positive
COVID-19 Update: Remote student from Troy High School tests positive
COVID-19 Update: Troy Middle School staff member tests positive
COVID-19 Update: Remote student from Troy Middle School tests positive
COVID-19 Update: Individual at Troy High School tests positive
Learning and Transportation Choice Form: February 1 – June 25, 2021
COVID-19 Update: Bus driver for out-of-district program tests positive
Letter from Superintendent John Carmello: Learning and Transportation Choice Form to be sent by November 16
August 20 Reopening Panel Discussion
The Reopening Panel Discussion will be live-streamed on Thursday, August 20, at 6 p.m. via Google Meet. The focus of this event will be to discuss updates to our reopening plan.
The public can access the live stream using the following link: https://stream.meet.google.com/stream/bcbaef21-39cc-4b80-8a4a-a4b69692c9d4
Users may need to use the following credentials to log in if they do not have a TroyCSD email address:
Username: meet@troycsd.org
Password: AugustMeet
The event will be recorded and shared at www.troycsd.org/reopening for those that are unable to watch the live stream.
Need Help? Starting at 5 p.m., anyone having difficulty accessing the steam with the above credentials may call 518-328-5477 and a member of our Technology Department will assist you. 
August 14, 2020 Update
During the August 13 Community Reopening Panel Discussion, Superintendent John Carmello made several announcements including:
First Day of School moved to September 14. We have made the decision to move forward with the change to the start of school. Classes will begin on Monday, September 14. The Staff PD days scheduled for November and March have been moved to the week of Labor Day.
District in compliance with Governor's orders – As requested by the Governor last week, the District has completed the following:

Two community discussions. A third event is scheduled for Thursday, August 20 at 6 p.m. via Google Meet. Additionally, Superintendent Carmello will present at the August 19 Board of Education Meeting.
2 Staff Q&A sessions
Prominent and separate placement of information for Remote Learning Plan, Contact Tracing and COVID-19 Testing. You can also find these links in the right-hand navigation of this page.

District to provide cloth masks to every student and staff member – Last week we discussed the purchase of gaiter masks, but since then a Duke University study came out that says these are not the most effective way of preventing the spread of aerosols. We certainly will not make decisions that put our students and staff at risk, therefore we have changed course and will purchase a 3-ply cloth mask for every student and staff with the Troy logo.
High School Transportation – We are still working with CDTA to see if they can help alleviate some of our transportation issues for high school students. If we do ultimately partner with them, please be aware there will still be a Durham option for any students not on CDTA routes or for those with multiple transfers.
Siblings to be grouped together in hybrid model –  We are still deciding on how to split the two groups for the secondary hybrid model, but rest assured the district will be flexible and accomodating to ensure siblings are grouped together. Other scenarios such as neighbors that ride to school together will also be met with flexibility.
Troy CSD reopening plan announced, provides parental choice regarding in-person and remote learning 
The Troy City School District has submitted its reopening plan to the New York State Education Department (NYSED). The plan includes a daily in-person instruction model for elementary students with a hybrid in-person/remote learning model for secondary students. Additionally, the District is providing all parents the option to choose remote-only learning. This option is available for all students at every level. 
The reopening plan was developed based on guidance from the Centers for Disease Control and Prevention (CDC), the New York State Department of Health (NYSDOH) and the New York State Education Department (NYSED).  It includes protocols based on input from stakeholders at every level and area of the district and incorporates the responses from staff and parent surveys.
"We understand that the decisions that are made impact students, their families, and our employees, and we have done our best to incorporate all the feedback we received during this process, while adhering to the strict guidelines we were presented with," said Superintendent John Carmello. "At this time, with all the safety protocols and social distancing requirements, we simply cannot bring all students back on a daily basis. We have developed a plan that we are confident addresses the needs of our students, and prioritizes in-person, full-time instruction for those groups identified as needing the most support, while ensuring a high-quality instructional program for everyone, whether a student is in- person or learning virtually."
The plan includes policies and procedures for maintaining social distancing of all students, faculty, and staff when on school facilities, grounds and buses. Students will receive daily temperature checks and screenings upon arrival and will be expected to wear face coverings at all times when social distancing is not possible. Additional cleaning and disinfection of facilities will occur, with special attention to high-risk and frequently touched surfaces. 
The plan emphasizes the importance of additional mental health and social-emotional supports, as the pandemic and subsequent school closure has been particularly challenging for young people. 
School meals will continue to be available to all students, including those attending school in person and those learning remotely.
Parents are asked to formally request either the in-person or remote-only learning model for their child using the Troy CSD Learning and Transportation Choice Form. The form will be available August 3 – 14. Additionally, they will be asked to inform the district of their transportation plans. Due to reduced capacity, the District is encouraging families to seek alternative modes of transportation where possible.
The District acknowledges and is planning for the possibility that it may need to alternate between in-person and complete virtual learning throughout the year due to recommendations and guidance from partnering agencies, and orders from the Governor. 
"This is going to be a very different start to the school year and it will take some getting used to for students and staff alike," said Carmello.  "We are looking forward to seeing everyone, and to working together to ensure that every student receives the high-quality education that they have come to expect from the Troy City School District."
The District will host a virtual panel discussion via Google Meet on Thursday, August 6, at 6 p.m. The public is invited to submit questions for the panel by emailing covid19@troycsd.org.
nbsp;
Troy CSD Reopening Plan
In-Person Instruction Grades Pre-K – 5
Grades Pre-K – 5 will have daily in-person instruction. Students will stay in the same room throughout the day, with the same students. Specials such as art and music will be taught in the same classroom. The District will make every effort to limit class sizes to no more than 15 students. Students will wear masks throughout the day when social distancing is not possible.
In-Person Instruction Grades 6 – 12
Grades 6 – 12 will receive a hybrid version of both in-person and at-home instruction to reduce capacity in our buildings. On the at-home days, students will participate in daily instruction in real-time with their teacher and virtual interactions with their peers. The schedule will alternate two consecutive days in-person followed by two consecutive days of virtual instruction. The District will make every effort to limit in-person class sizes to no more than 15 students. Students will wear masks throughout the day when social distancing is not possible.
Remote ONLY Learning Grades K – 12
Students will participate in daily instruction with a certified teacher, and will have the ability to interact with their peers. This model looks different than the virtual instruction students participated in this past spring when buildings were shut down. With this model, students will receive a set schedule and will be required to have daily virtual interactions. Chromebooks are available for any student that needs a device.
Other Resources