We need your help to advocate for Troy students!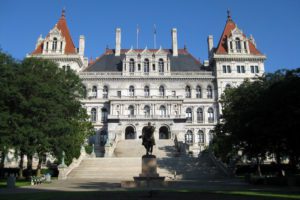 Once again this year, the Governor's proposed budget includes inequitable and insufficient aid to school districts, especially urban districts like ours, who are more dependent on State Aid. Our proposed Aid increase is less than 1% and, at this point, leaves us with a budget gap of $2.5 million. Click here to view a presentation of Draft 1 of the 2017-2018 school budget.
Pre-written Letters
Superintendent John Carmello will be personally meeting with our legislators on March 7, and would like to bring with him as many letters from our school community as possible. Click here for pre-written advocacy letters addressed to our legislators regarding the funding issue. Please sign the letters to make your voice heard. If you would prefer to write your own letter, please feel free to do so. Signature, name and address are required on each letter; however, adding your telephone number and email is optional. All letters should be returned to your school's Main Office by Friday, March 3, 2017.
Contact legislators by email and/or phone
The Honorable Kathleen Marchione
New York State Senate
Room 917, LOB
Albany, NY 12247
518-455-2381
mmarchione@nysenate.gov
The Honorable Steven McLaughlin
New York State Assembly
LOB 533
Albany, NY 12248
518-455-5777
mclaughlins@nyassembly.gov
The Honorable Neil Breslin
New York State Senate
172 State StreetRoom 414, Capitol
Albany , NY 12247
518-455-2225
breslin@nysenate.gov
The Honorable John McDonald
New York State Assembly
LOB 417
Albany, NY 12248
518-455-4474
mmcdonaldj@nyassembly.gov
Tips for calling your elected officials
Let them know that you are a constituent. Elected officials are most interested in your opinions if you are their constituent, so be sure to say you're calling from the Troy City School District.
Be brief. Offices receive a high volume of phone calls every day, so keep your call brief.
Be timely. Timeliness is especially important when you are phoning. If the vote on your issue is imminent, the aide is much more likely to pay attention to what you say.