Valedictorian
Marie Borca-Tasciuc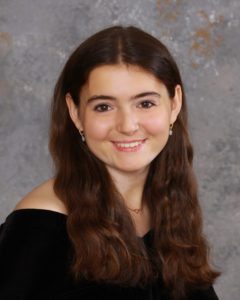 Marie Borca-Tasciuc has earned the distinct honor of being named Troy High School's Class of 2023 Valedictorian with an overall grade point average of 99.09.
Marie is an exceptional student, leader, musician, athlete, and humanitarian who has excelled academically throughout her time at Troy High School. Marie has been a motivated, well-rounded student who has displayed leadership through action and thrived in the classroom regardless of subject. Marie is graduating with an Advanced Regents diploma with Honors and Mastery in Math and Science, while also earning a NYS Seal of Biliteracy in Romanian.
Over the course of her time in high school, Marie has accumulated 30 college credits from Rensselaer Polytechnic Institute and Hudson Valley Community College and successfully completed multiple Advanced Placement courses offered at Troy High. Marie was also extremely active in her school, participating in a multitude of extracurricular activities. Marie has been an active member of Troy High School's annual Drama productions, competed in Soccer and Indoor Track on the varsity level, performed at the NYSSMA Music competition, was a member of the THS 'MasterMinds' and 'Troybotics' teams, and was Vice President of the Music Club.
Outside of school, Marie has found time to volunteer at non-profit organizations Inima de Copil (Heart of a Child) and St. Sophia Greek Orthodox Church. Marie's impressive grades, well-rounded talents, and commitment to her community earned her induction to both the New York State Math Honor Society and the National Honor Society, where she served as the MHS Secretary and the NHS Historian, respectively. As a junior, Marie was awarded with the Rensselaer Medal, a premier scholarship given to outstanding math and science students. Marie was accepted into the prestigious New Visions STEM program as a senior, where she participates in regularly scheduled Rensselaer Polytechnic Institute physics classes in addition to an Advanced Engineering Research and Applications (AERA) class.
Marie's hard work and dedication has paid off as she was the recipient of the Louis Henry Gross Foundation Scholarship, The Dr. John C. Corelli Award for Academic Excellence, The Troy High School National Honor Society Award, The New York State Board of Regents Merit Scholarship for Academic Excellence, The New York State Seal of Biliteracy, the Scholars' Recognition Program Award, The National Choral Award, The O'Haire English Literature and General History Award, and The Troy High School Math Honor Society Achievement Award.
This fall, Marie will be continuing her education at Rensselaer Polytechnic Institute, where she will be majoring in Aerospace Engineering.
Salutatorian
Inari Sohn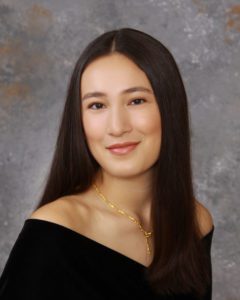 Inari is the Salutatorian of the Class of 2023 with a grade point average of 98.97.
Inari has taken advantage of all Troy High School has to offer by challenging a rigorous Honors and AP course load. She will be graduating with an impressive 43 college credits from Hudson Valley Community College, University at Albany and Rensselaer Polytechnic Institute (RPI). As a senior, she was accepted into the New Visions Science Technology Engineering and Mathematics program.
Inari is the recipient of a Louis Henry Gross Foundation Scholarship, New York State Merit Scholarship for Academic Excellence, Troy High School French Club award for high academic achievement, the New York State Comptroller Achievement award, the Elizabeth Buckley Memorial award, and the New York State Seal of Biliteracy award in French. As a junior, Inari received the University of Rochester George Eastman Young Leaders award, this award is given to a junior who exhibits strong leadership skills and academic achievement, with involvement in extracurricular activities. As a member of the National Honor Society, Inari has participated in many leadership and extracurricular activities during her time at Troy High.
Inari is a member of the Varsity tennis team, Cross Country (9th grade), Ski Club, Drama Club Stage Crew (Stage Manager), Music Club, Concert and Jazz Band, Masterminds (12th grade Captain), French Club (11th grade President), Math Honor Society (11th grade Vice President, 12th grade President).
In the fall, Inari will be attending American University. She was accepted into the Global Scholars Program and will major in International Studies and Economics.