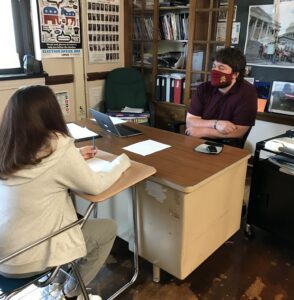 The Student Council chose to highlight Trevor Taylor this month with an interview by Sabrina Martin. Mr. Taylor has been teaching at School 12 ALP for six years.
Q: What is something you love about School 12?
A: How welcoming everyone here is. There's no awkward phase when new kids come into the program. Everyone just immediately becomes part of the crew here at School 12 and starts making friends right away.
Q: What is your best memory from School 12?
A: It's so hard to pick! Our field trips are top-notch. My favorite was when we went to a baseball game on our Philadelphia trip. I was able to watch my students enjoy something that I have a strong passion for.
Q: What are your favorite things about the students at School 12?
A: They challenge me to be my best every single day. I always have to be on my game and be the best teacher I can be. I also love how the students are so friendly and love to joke around from time to time.
Q: What do you do in your spare time?
A: Every summer I work for the ValleyCats (it's basically my summer home), I play video games, and love to watch anything Marvel-related.
Q: Favorite color?
A: Blue
Q: Favorite music genre?
A: It's changed a lot since I was in school myself. I am much more into classic rock now. I'm a big fan of Queen.
Q: Favorite movies:
A: To name a few: all the Marvel movies/shows, Star Wars, Moneyball, Bohemian Rhapsody. I'm a big movie buff.
Q: Where would you go on vacation if you could go anywhere?
A: In the US, anywhere where there's an MLB stadium. Outside of the US, Greece or Italy. There's so much history there to see, and my family comes from Italy too