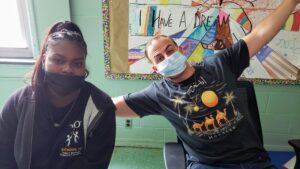 The School 12 Student Council would like to feature our amazing Social Studies teachers for June's Teacher Spotlight!  Mark Millington has been teaching at School 12 ALP for 5 years.
Mark Millington was interviewed by our lovely Student Council President, Ty'Nayzha Romero:
Q: What is something you love about School 12?
A:  I love how naturally funny the kids are and how comfortable they feel in the building.
Q: What is your best memory from School 12?
A: Our Philly trip. Getting to explore the city with the kids.
Q: What are your favorite things about the students at School 12?
A: Their honesty. A School 12 student will never hold anything back.
Q: What do you do in your spare time?
A: Exercise, take care of my dogs, spend time with my family and cook.
Q: Favorite color?
A: Blue, all day!
Q: Favorite music genre?
A: Too many but here are a few; Hip-Hop, Motown, Southern Rock, whatever genre the Red Hot Chili Peppers fall into. I think they are their own genre and the best band ever.
Q: Favorite Show?
A: The Sopranos
Q: Where would you go on vacation if you could go anywhere?
A: The Amalfi Coast in Italy.