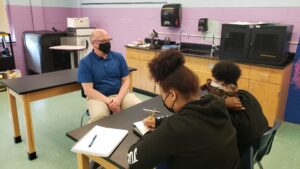 Peter Scofield has 16 years of experience teaching science; six of those years have been here at the ALP teaching students in Grades 8-10. The Student Council chose to highlight Mr. Scofield this month with an interview by Ty'Nayzha and Zerenety:
Q: What is something you love about School 12?
A: I love that we focus on students as individuals. We are able to support students in many ways based on what their needs are so they do not fall through the cracks.
Q: What is your best memory from School 12?
A: Well, before COVID, on the morning of my Regents exam, I would cook my students breakfast. I would get to bring cooking (one of my favorite things to do) into the class, something we don't normally do.
Q: What are your favorite things about the students at School 12?
A: They always keep me on my toes and challenge me to be a better teacher. They are funny and entertaining which keeps the class lively and not boring.
Q: What do you do in your spare time?
A: Well, right now I am driving my kids to a lot of soccer matches. I spend a lot of time with my family and kids. I like to cook and play with my labradoodle.
Q: Favorite color? 
A: Green
Q: Favorite music genre?
A: I like a variety of music genres but I'd have to say rock.
Q: Favorite Movies:
A: War movies
Q: Where would you go on vacation if you could go anywhere?
A: Europe because I would like to explore old churches and castles. I also think I'd like the climate there.