The TMS virtual parent conferences will be held Wednesday, November 18, from 5 to 8 p.m., and Thursday, November 19, from 1 to 3:15 p.m.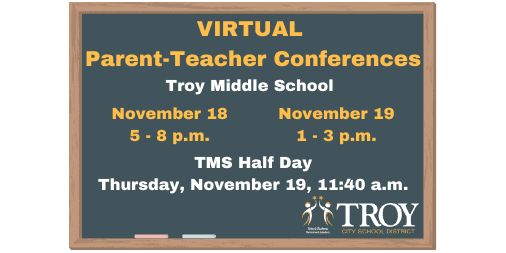 WebEx Teacher Links
The Google Docs below contain teacher information and links to their virtual conferences:
Please click on your teacher's link and type in the password: troy (all lower case), to be let into conferences.
After signing in, you will be in a virtual waiting room until the teacher is able to invite you in.  If you have any issues or trouble logging in, please email 
troytech@troycsd.org
.
You can also choose to dial in and type in the access code, also found in the above Google Docs.
Review report card on Parent Portal
Prior to the conferences, please go to the Parent Portal to review your child's report card.  They'll be posted prior to conferences Wednesday afternoon.
We are looking forward to seeing everyone.  Please contact us with any questions.
Troy Middle School