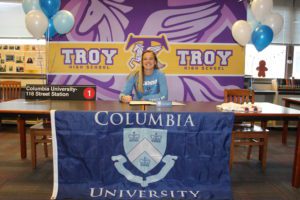 On December 19, Troy High School senior Maddy Rifenberick signed her letter of intent to play softball for Columbia University, an Ivy League school located in New York City.
"Columbia is always where I wanted to go ever since I was little," said Maddy. "Academics has always come first for me and New York is always where I wanted to be."
Maddy is entering her 6th season on the Troy High School Varsity Softball Team.  She has been a starter since 7th Grade. Over the last three years, she has started every single game on Varsity as the team's catcher.
"Troy High Softball made me who I am, starting with Coach Raffety back in 7th Grade and now with Coach Geisel. It has just built my work ethic and showed me what it takes to succeed," she said.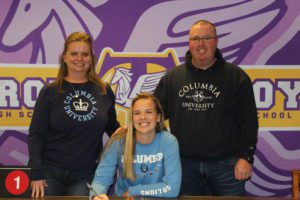 Since the spring of 2017, she collected 79 hits for an overall average of .414.  Over these last three seasons, she has also hit 15 home runs, drove in 58 runs (RBI) and has scored 59 runs. Defensively, she has only committed two errors in the last three seasons (63 games).
Multiple times she has been a Suburban Council All-League selection, a Times Union All-Area selection and a member of the All-State team.
Coach Sean Geisel expressed pride in Maddy and her accomplishments.
"We are very proud of Maddy from both a softball program and on a district level," said Geisel. "She's been a great leader the past six years. Congratulations to Maddy and to her family!"