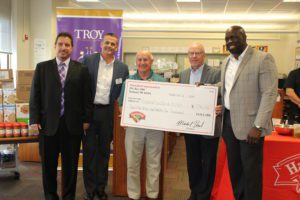 Thanks to a generous donation from Hannaford Supermarkets, Troy High School now has an in-school food pantry where students in need can help themselves to snacks during the day and take food home. The food pantry will help both students and their families while increasing their accessibility to nutritious food.
Hannaford announced the donation today at Troy High School. The grocery store company donated a total of $296,000 to the Regional Food Bank of Northeastern New York to establish food pantries in 33 schools throughout the state, including $10,000 for Troy High School.
Students will be recommended for access to the pantry by teachers and administrators who witness first-hand their nutritional needs.
The Troy High School Food Pantry will also help support the backpack program, which discreetly provides students in need with bags of nutritious food for times when other resources are not available, such as weekends and during school breaks.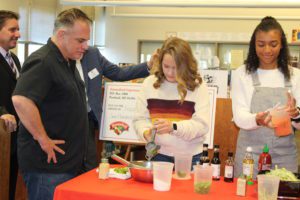 "We are very grateful to Hannaford and the Regional Food Bank of Northeastern New York for working with Troy High School to establish this food pantry for our students," said Troy Central School District Superintendent John Carmello. "Every student in our school receives a free breakfast and lunch while they're in school, but we know that we still have students who are not getting the proper nutrition they need once they leave our buildings for the night and when school is not in session. This program will help to ensure that even more students get the food they need which will help them to be the best they can be."
Also during today's event, New World Bistro Bar owner and executive chef, Ric Orlando, showed Troy High School student council members how to create a nutritious and well-balanced meal using foods found in the food pantry.