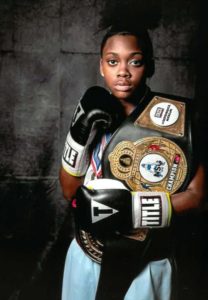 When 13-year-old Troy Middle School student Jadah Robinson speaks, it's quiet, calm and articulated. So it might surprise you to learn that this teenage girl is a also a licensed and registered boxer with a long list of accolades and a vision to go pro.
Jadah began the sport when she was just 5-years-old. She is the first female from he Capital District to earn the #1 spot the country in her weight class when she was 11.
"I'm not intimidated by [boys] because I've been doing this a long time," said Jadah. "It actually fuels your ability because I know I can be better. Just because it's male dominated doesn't mean girls can't do it."
She is a two-time Silver Glove Champion; 2017 U.S. National Junior Olympic Champion; and an Elite National Champion. She has received proclamations from Albany Mayor Kathy Sheehan, Troy Mayor Patrick Madden and Albany County Executive Daniel McCoy. She has been featured in Sports Illustrated and is set to appear on the cover of Slug Fest magazine for their June 2019 edition.
Jadah does well in school and says her discipline in boxing also carries over to the classroom. She works out 2-hours a day, but also schedules time for homework.
In addition to the sport itself, Jadah said she enjoys giving back to the community and helping fellow boxers. She annual gives to Toys for Tots, uses her own money to provide a turkey dinner to a family, and donates to the homeless. Additionally, she said he likes helping out fellow Troy Middle School students who might be going through a hard time.
"Sometimes kids feel like no one cares about them, but I will talk to them and explain how sad it would make their family if anything ever happened to them. I've been called a 'little therapist.'"
On May 4, Jadah will compete in the Junior Olympic Adirondack Qualifier for boxing, the first step in regaining the Junior Olympic Championship title she earned in 2017. The event takes place at the Ring of Hope Boxing Club in Schenectady. Doors open at 5 p.m., bouts begin at 6 p.m.