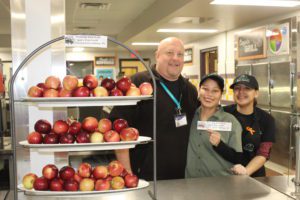 New this year, Troy City School District has partnered with Capital Roots' "Farm to School" program to bring fresh and local produce to our cafeterias.
Currently the bulk of the produce has been apples, but Troy CSD Food Service Director Rich Hollander of Whitsons Culinary Group said he expects more variety as the produce comes in to season. Students should expect cantaloupe, honeydews, watermelon, lettuce, spinach and more.
While it does cost a little bit extra to purchase locally, Hollander said it doesn't cost the District or taxpayers anything more thanks to a government grant.
"I think this partnership shows our commitment to supporting local businesses and that's one of the values we want to pass on to our students," said Hollander.
"Capital Roots and the Troy City School District have partnered for decades," said Amy Klein, Capital Roots' Chief Executive Officer. "We are excited to expand on our partnership with our Farm to School program.  This program ensures that local farms are able to sell larger volumes of their products locally, helping farms remain viable and enabling local children to eat local food.  We are grateful to the Troy City Schools for valuing our local farmers and look forward to working with them in this way for years to come."