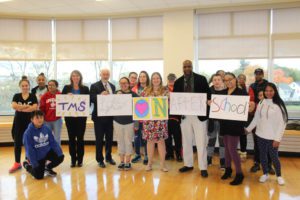 On October 25, the 21st Century After School Program at Troy Middle School welcomed families and community members to an open house, showcasing the various activities available to students. "Lights on After School" is a nationwide event that highlights the importance of after school programs.
Visitors, including Mayor Patrick Madden and Deputy Mayor Monica Kurzejeski, had the opportunity to tour the various programs including culinary, sports, engineering and art.
The 21st Century After School Program supports the creation of community learning centers that provide academic enrichment opportunities during non-school hours for children, particularly students who attend high-poverty schools. The program helps students meet state and local standards in core academic subjects, such as reading and math; offers students a broad array of enrichment activities that can complement their regular academic programs; and offers literacy and other educational services to the families of participating children. The 21st Century Programs at Troy City School District are a part of the New York State Education Department and the United States Department of Education's 21st Century Community Learning Centers (21CCLC) grant.
At Troy CSD, the 21st Century After School Program supports approximately 625 students in Grades 5-8. Program offerings provide academic enrichment opportunities, arts and crafts, culinary arts, music, recreation, science, technology, engineering, project-based learning, and youth development activities during non-school hours. Community partners include Troy City Music Hall, Commission on Economic Opportunities (CEO), The Arts Center
of the Capital Region, St. Anne's Institute, Rensselaer County Cornell Cooperative Extension and Troy Family YMCA. https://www.troycsd.org/programs/21st-century-after-school-program/