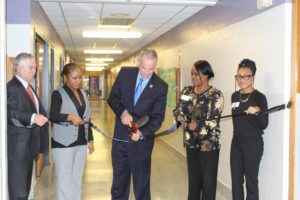 On October 18, School 2 hosted a grand opening celebration of their Community Schools Wing. The newly renovated space will serve as a hub for support services for both children and their families.  It includes private areas for medical and dental screenings, family support, career resources and meeting spaces.
Roughly 50 guests attended the event which included remarks, ribbon cutting and tour of the wing. Among those in attendance included City of Troy Deputy Mayor Monica Kurzejeski and representatives from the offices of Senator Neil Breslin, Assemblymember John McDonald and Rensselaer County Executive Steven McLaughlin.
Last fall, Troy CSD was awarded a total of $550,896 for School 2 through the Community Schools Grant. Of that, $362,572 is allocated for academic programming and the other $188,324 is for capital improvements.
In January 2018, residents in the Troy City School District voted in favor of this capital project that renovated existing spaces to create a community schools wing. The fully-funded $1.2 million project utilized funding from the grant to cover the local share of the project with the remaining amount funded with State Aid.
The District worked with Hamlin Design Group, an architecture firm that specializes in K-12 educational planning with experience in community school projects.
Partners include: CDPHP, Community Care Physicians, Rensselaer County Department of Mental Health, Riverview Pediatrics, Unity House, and Whitney M. Young, Jr. Health Center.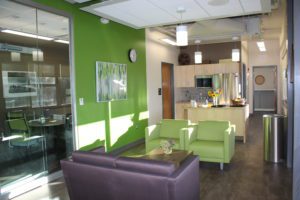 "This is just another step forward in helping all of our students reach their full potential and achieve success," said Superintendent John Carmello. "We are excited about the possibilities this community schools wing will provide. What we do here can and is life changing work. We can and do literally change the lives of our students for the better and this community schools wing will only enhance our ability to do just that for our students and for their families."
"This is an amazing opportunity to be as responsive as we possibly can be to our students and the community at large," said School 2 Principal Natélegé Turner-Hassell. "Our vision here at School 2 is all students achieving proficiency and we know that we need a great deal of support to do that and this will help us get that much closer to our vision."
"One of our most successful partnerships has been with the folks here at School 2 who have opened their doors and their hearts to our team," said CDPHP Executive Vice President Robert Hinkley. "I have talked to our staff and they love being here, allowing us to provide critical health care services to students and families in the neighborhood. Together we prove that collaboration, commitment and compassion and innovation really will work in the community."
"All of us at Rensselaer County are very proud of this accomplishment and achievement to the students," said Rensselaer County Director of Operations Richard Christ. "This is a great addition to a great school district and a great part of our county."