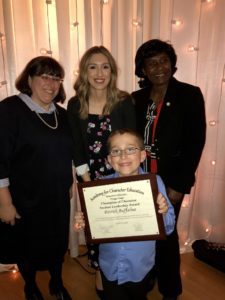 On April 26, Carroll Hill School third grader Patrick Buffaline was awarded a Champions of Character Education Award during the 15th Annual Sage Colleges Academy for Character Education Champions of Character Banquet at Franklin Plaza.
Nominated by his teacher, Mrs. Himes, Patrick was selected for his many leadership qualities including integrity, honesty, respectfulness, responsibility, compassion and perseverance.
Patrick and his parents sit on the local Make-A-Wish chapter planning committee and has his own team, Team Patrick, that raises money for the Foundation. Patrick, himself, has undergone four open heart surgeries.
"I know how it feels for parents to see their child in pain, so I like to be able to help them think about other things," he said.
Patrick also helps with a fundraiser for the Visiting Nurse Foundation, in honor of his late grandmother who was a visiting nurse for most of her life.
This year he assisted with the Carroll Hill's involvement in "Yes Virginia, There is a Santa Claus" letter campaign. He enabled the school to double their amount raised by delivering the letters to Macy's on the double donation day.
Patrick is also a member of Carroll Hill School's K-Kids organization where he created holiday cards and crafts for local nursing home residents and volunteered at the Ronald McDonald House.