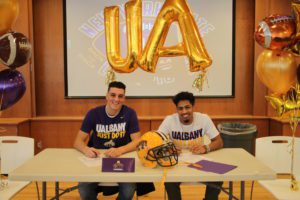 On February 13, surrounded by their family, friends and coaches, Troy High School seniors Joeseph Casale and Devenaire Holmes signed their National Letters of Intent to play football for the University at Albany. UAlbany's football team is part of the Colonial Athletic Association and the University has been ranked among the top universities in Forbes' "America's Best Public Colleges."
Both Casale and Holmes are 3-year varsity players.  Both saw a tremendous career amassing a 35-1 career record and back-to-back New York State Public High School Association Class AA Championships in 2016 and 2017.
This has been a goal of mine since I was younger, I've always dreamed of this and to have my friends and family here is definitely something special," said Casale "Coach Burns always pushed me and wasn't easy on me which is what I needed but I was prepared by what I feel is the best staff in the state."
"This happens once in a lifetime and it's a big day to sign my national letter of intent," said Holmes. "I'm looking forward to bringing some championships to UAlbany."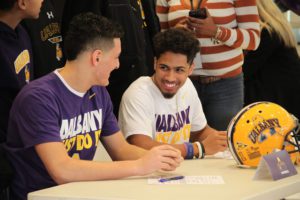 Casale's individual honors include the following titles: 2017 New York State High School Football Coaches Association Class AA Player of the Year; 2-time State Free Safety; 2-time NYS USA Today 1st Team Free Safety, 2-time Times Union Defensive Player of the Year; 2-time Section 2 Class AA First Team Free Safety and 2017 Class AA Defensive Player of the Year.
Holmes individual honors include: 2-time All State Wide Receiver; 2-time Times Union 1st Team Wide Receiver; 2-time Section 2 Class AA First Team and 2017 Class AA Player of the Year.
Head Coach Bob Burns praised both athletes for their leadership and commitment to the team.
"They both have shown overwhelming work ethic, leadership, and never wavered their commitment to being successful," he said. "It has been my true honor to coach them for the past three years. Joe and Dev are the epitome of what all future Troy High School football players should strive to be."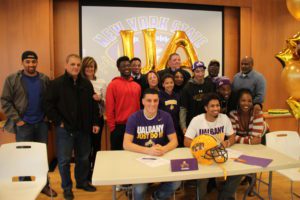 Troy City School District Athletic Director Paul Reinisch echoed that sentiment and said UAlbany is gaining two large talents.
"I could not be happier for Dev and Joe, to have them both playing at Albany, I know their families must be thrilled to get to watch them play each week in person," said Reinisch. "Dev is such a great kid and student; UAlbany is going to love him. Coach Grasso gave Joe the best compliment.  He said 'wherever Joe decides to go to college, he will be their team captain in four years.'  Joe is a born leader and winner."
Joseph Casale is the son of Kathy and Mack Casale. Dev Holmes is the son of Jen and Chico Holmes.