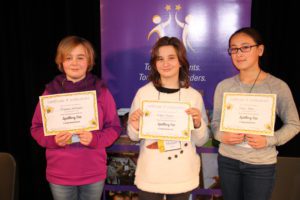 On January 4, students in Grades 4 – 8 from all five elementary schools and Troy Middle School competed in the annual Troy City School District Spelling Bee. These students advanced from their building-level competition to compete among their peers.
The winners of the Spelling Bee are all from Troy Middle School:
1st Place: Elisabeth McDonald
2nd Place: Angela Munao
3rd Place: Inari Sohn
Elisabeth McDonald and Angela Munao were also the first and second place winners last year. All three winners advance to the Capital Region BOCES Spelling Bee on February 13 at Proctors Theater in Schenectady.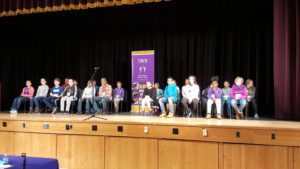 A full list of Troy CSD Spelling Bee participants are listed below:
Troy Middle School
Kyle Debetta
Rahsiya Dukes
Satya Grogg
Nelson Hale
Antonio Hood
Elisabeth McDonald
Greg Mosca
Angela Muao
Sebastian Ordonez
Christian Rasmussen
Sydney Raynor
Dreven Sesay
Inari Sohn
School 2
Danteya Gourrier-Lewis
Jennifer Wescott
School 14
X'zevious Broadus
Soorya Thiagarajan
School 16
Olivia Ashline
Sophie Schwartz
School 18
Carroll Hill School
Anthony Egan
Christian O'Reilly