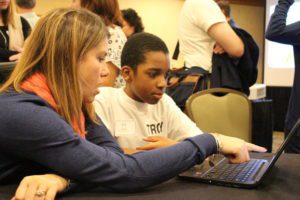 Fifth grade students from Troy City School District's School 18 recently had the opportunity to become teachers for a day, demonstrating their knowledge of educational technology to educators from 22 school districts.
The 29th Annual Regional Technology Awareness Day on Friday, December 1 was held at the Radisson Hotel in Albany. Presented by the Northeastern Regional Information Center (NERIC), the conference drew in more than 600 attendees throughout the day.
Troy students demonstrated ways they're learning ELA and math through the use of technology. Teachers rotated through various student-lead stations to learn about Minecraft, computer coding and robotics.
For example, students use math to create levels within the Minecraft video game and then write opinion pieces on their work. Students use iPads or Chrombooks to write code that controls robotic toys like Lego Robotics, Dash and Dot, and Sphero.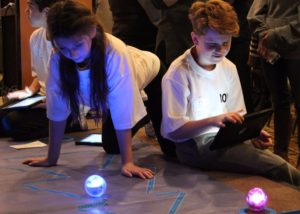 "I learned angles and fractions by using robotics," said 5th Grade student Vinny Adams. "It's like fun math!"
Troy educators said they were proud of the students' ability to clearly and easily articulate what they've learned.
"Teachers seemed pleasantly surprised by how knowledgeable our students are about this kind of technology," said School 18 Principal Virginia DonVito-MacPhee. "We are thrilled to see the level of confidence and skill level it has brought them – so confident they can teach adults!"
Troy CSD teachers are currently working with technology coaches for ELA and Math, but the District seeks to eventually integrate the technology across all subject areas.
"These presentations are a testament on how important this is for student engagement," said Troy CSD Director of Technology Erin Sheevers. "Students have pointed out questions on tests and say 'hey, this is a Minecraft question,' and work through the problem with ease."
"If you find out what the students are passionate about and incorporate it into lesson plans, you're going to get that higher level engagement," said DonVito-MacPhee. "We are so fortunate our district supports this."
The theme of Awareness Day 2017 was Ignite Learning: Inspire, Connect and Create.