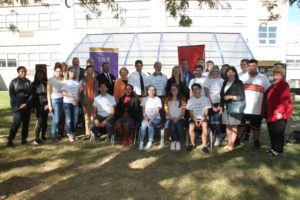 Troy High School and Troy Middle School students now have the opportunity to really get their hands dirty. Rather than learning about sustainable farming techniques from a text book or a lecture, students will work on the ground level in an all-new greenhouse built on site at Troy High School.
The greenhouse was unveiled on Thursday, September 28 by Troy City School District and Rensselaer Polytechnic Institute officials. The project is a collaborative effort between the District and RPI STEP (Science Technology Entry Program), which serves underrepresented and economically disadvantaged students in Grades 7 – 12 to pursue STEM degrees and the licensed professions.
The greenhouse will primarily be used by Troy High School and Troy Middle School science classes, the Troy High School Environmental Club and the RPI STEP students attending Troy High School.
Students will have the opportunity to participate in project-based learning relating to sustainable agriculture and general gardening concepts. Other project examples include climate experiments relating to indoor and out temperatures as well as Earth's heating and cooling. Environmental classes will experiment with plant propagation and fertilizers. The Environmental Club will be growing starter vegetables they can then sell to raise funds for the club and for charitable donations.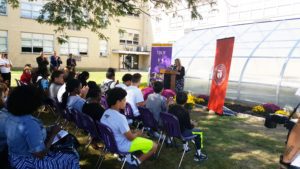 "The Troy City School District is so proud to be part of this collaborative effort with RPI STEP to bring more project-based learning to our students," said Dr. Donna Watson, Troy CSD Assistant Superintendent for Curriculum and Instruction. "The greenhouse opens a world of possibilities to help us achieve our mission of providing a strong educational and social foundation to graduate all students college and career ready. Not only does it provide hands-on learning opportunities in science, technology, engineering and math but it offers our students opportunities us e what they grow to help meet the needs of others in our community. Students will have the chance to make a difference right here on Troy's campus that could lead them to solve the larger environmental issues of our time."
"We are always looking for new and creative project-based learning opportunities to engage our underrepresented and economically disadvantaged students in STEM," said Cynthia Smith, RPI Assistant Dean of Students and Director of Pipeline Initiatives and Partnerships. "The greenhouse-related education that RPI STEP students have been able to participate has allowed students to develop and present research projects related to urban agriculture, local farming, and aquaponics—while also connecting them to area organizations involved in the field. The greenhouse project serves as a wonderful example of a great collaboration between Rensselaer, the Troy School District, and the local community. This is our way of planting a seed early enough in the minds of today's students to pursue STEM, because we believe that this process starts long before a student reaches college."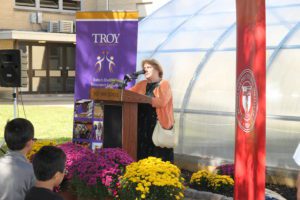 The idea for the project started in the spring of 2015 when Troy High School and RPI alumnus Sean Wilson developed a vision of establishing a community greenhouse that would engage young people in developing sustainable communities.
Teachers at Troy CSD will receive professional development regarding greenhouse and sustainability instruction through the Center for Initiatives in Precollege Education.
Funding through RPI was provided by outside foundations including The John Ben Snow Memorial Trust, The Junior League of Albany, Whole Kids Foundation, The Seymour Fox Memorial Foundation and Wicked Smart Apparel. Troy City School District also secured a grant from The Lowes Toolbox for Schools program. In total, the outside funding raised in support of the project was $57,500.