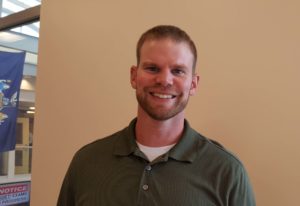 Brian Matthews is the new principal's assistant at Troy Middle School, but he's no stranger to the building. Mr. Matthews spent the last year as a teacher's assistant in the 8:1:2 program where he got to know students, staff and administrators.
"These kids are phenomenal and the teachers are some of the best I've seen at any level," he said. "They put a lot of effort into what they do."
Matthews said he is looking forward to learning from others as well as helping to make connections.
"I'm hoping to create a fresh dialogue with the students and parents and really push the core values of Troy Middle School – Work Hard, Get Smart!"
In addition to education, Mr. Matthews is passionate about sports. In fact, he played football with Troy Middle School Assistant Principal, Mr. O'Meally back in their Hartwick College days.
Mr. Matthews has trained many local athletes and is also working as a strength coach for varsity athletes at Troy High School. He is also a freelance writer for such publications as Men's Health and Muscle and Fitness.
He lives in Voorheesville with his wife and his son, Owen.