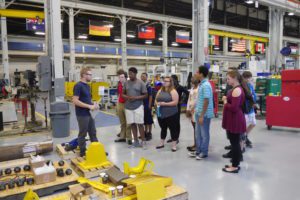 Students entering 9th Grade in the Troy Riverfront P-TECH program got a head start on the school year this summer.
The Summer Bridge is a two-week introductory program for incoming students. Fifty-five students had the opportunity to visit partner organizations such as GE Healthcare and Simmons Machine Tool Corporation where they took tours and learned about careers offered in some of the most in-demand fields.
Students spent two days at Hudson Valley Community College, from whom they will receive a free 2-year college degree at the end of the 6-year program. Students participated in a ropes course that required them to work effectively as a team and communicate – skills required in professional settings.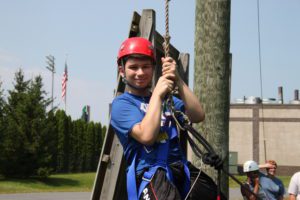 In addition, students worked in a classroom setting with robotics and other math challenges.
Math teacher Nancy Smith said the summer program forces students to get to know each other and work together.
"Many of these students are meeting each other for the first time and so they aren't used to working with each other," said Smith. "Because P-TECH is project based, Summer Bridge helps them to become acquainted with the idea of relying on each other and team work."
9th Grade P-TECH student, Krystal Perry says she wants to be a pediatrician one day and that she enjoyed the Summer Bridge program.
"I've met a lot of new people that I've seen around school before, but didn't know. [Summer bridge] has been fun," she said.