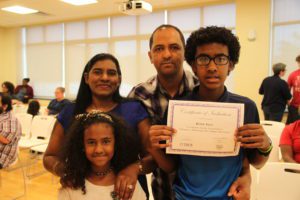 On Thursday, June 15, 55 eighth graders received their invitations to their high school and college graduations. These students were inducted into the 2023 class of the six-year Troy Riverfront Pathways in Technology Early College High School (P-Tech).
The selected students and their families were joined by Troy City School District Superintendent John Carmello, Troy Riverfront P-TECH Facilitator Christine Dauphinais, Troy High School Principal Joseph Mariano, Troy High School Assistant Principal Ian McShane, Troy High School Administrator Dr. Casey Parker, Troy Middle School Counselor Ann Capobianco and more.
Additionally, attendees enjoyed a special cake collaboration created by current P-TECH students. Students designed a cake using computer software and created a 3D printed model. Students had to calculate the volume of the cake and also learned about the chemical reactions that occur during baking. Troy seniors then created the cake itself for everyone to enjoy. This project based learning is a perfect example of the kinds of activities new inductees will be doing throughout their experience in P-TECH.
Congratulations to the Troy Riverfront P-TECH Class of 2023:
Benjamin Abbas
Kai Akera
Kayla Atkinson
Angel Belle
Jack Bloom
Nisha Bradley
Jaeshaun Brown
Angelina Bruno
Alyssa Bruno
Yehoshua Bryant
Diannah Byfield
Kaseam Coley
Michael Collins
Keyondre Cook
Jadon Cummings
Sean Dwyer
Khaliq Evans
Andrew Flavin
Brianna Gettings
Nathan Greene
James Gumlaw
Kyran Joyce
Marsaun Keels-Wilmer
Dathan King
Augustus Lanni
Lasheen Lewis
Yaziel Lind
Elijah Locklear
Jakia Mayben
Justin Mazoway
Steven McConnell
Trinity McCrae
Jessia McIntyre
Ethan Merrow
Shine Moe
Tyrell Penalba
Krystal Perry
Casey Polan
Christopher Robinson
Logan Roulier
A'mariona Seay
Joshua St. Denis
Danielle St. Denis
Haylie Truesdell
Emanuel Vazquez
Tyler West
Shiqunita Wheatley
Michael Whitlock
Kenneth Williams
Dasoni Wilson
Trinity Wingate
Alexander Wolfe
Jason Wood II
Gianna Ziter