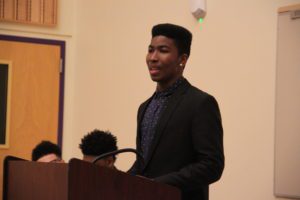 In 11th Grade English, Troy High students gain skills employers are demanding.
In the debate unit, students are assigned a controversial topic and must work in teams to develop an argument either in favor of or against said topic. Topics included the death penalty, raising the minimum wage, abortion and school uniforms.
Students take turns presenting their arguments in front of their peers which helps to develop public speaking skills. Their arguments must be based on facts from their own research, a key component of the Common Core curriculum.
Employers say that soft skills, like that ability to communicate and work in teams, are highly desirable for job candidates.