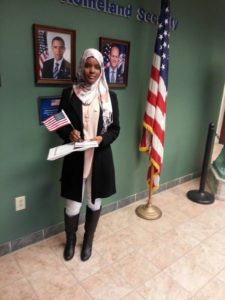 On Tuesday, January 17, a group of Troy High students gathered in Mr. Mostransky's classroom to prepare for a party. Red, white and blue streamers bowed from the ceiling above a table of refreshments.
As she entered the room, Troy High junior Razan Khalafalla was greeted with a unified "Happy Citizenship," from her classmates. After seven years, Razan was finally a United States citizen.
"We came here from Sudan in search of a better life and better educational opportunities," she said with tears still in her eyes. "Coming to Troy changed my entire life."
Razan is joined in citizenship by her brothers, sisters and father.
"It feels so good to become a citizen, and now I can vote in the next election!"