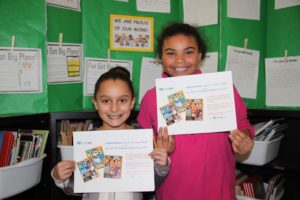 Two 3rd Grade School 14 students tied for third place in the Cool Kid IP Challenge Powered by AT&T, a regional invention competition held at Rensselaer Polytechnic Institute on December 8.
Students had to answer the question, "If you could change something in your home, school, or community, what would it be and how would you do it?" Once they have brainstormed their solution, teams then identified the target market, manufacturing methods, and the sale and protection of their product.
The Shark Tank-like competition required teams to present their invention concept to a panel of judges from the academic and business community.
Troy's winning team, consisting of Taina Rivera and Kayana Santana, developed an idea called "Neatest Desk," a desk organizer that fits perfectly in elementary student's desks.
According to the Bureau of Labor Statistics and U.S. Department of Labor, STEM focused initiatives are critical for our youth because much of the growth in the domestic and global economy will come from STEM-related jobs—a highly lucrative and competitive field. It is estimated by 2020 there will be 2.4 million unfilled STEM jobs with more than half made up of computer and coding careers, underscoring the importance of providing the youth the tools and skills necessary to compete in this innovation economy.
Students used Google Chromebooks to research their idea. Some were disappointed to find their idea already existed and would have to start over.
"First we wanted to make a robot but it was too much," said Taina. "Then we looked online and saw a video that they had been making this robot for years! Just to sweep!"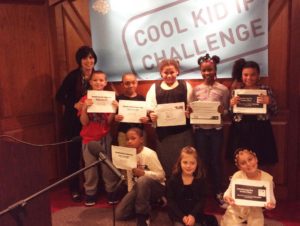 Other projects that Renee Patti's class came up with included a clock for the visually impaired, a pen with a tracking device geared toward teachers and nurses, and boots that light up for people without street lights so they can see where they're going at night.
Students used Google to collectively create a presentation of their idea. According to Ms. Patti, what some found, was the harsh reality of mistakes.
"Students were accidentally deleting each other's slides, which caused some tears has some of them had to start over," said Patti. "It's all part of the process."
The winning team received subscriptions to educational magazines. In addition, several books were donated to School 14's library.
Sheridan Preparatory Academy in Albany, Slingerlands Elementary in Bethlehem, and Castleton Elementary in Schodack also participated in the competition.