The after school Program is a 21st Century Community Learning Center Program which provides high-quality enrichment, health & wellness, and community service experiences for approximately 425 students in grades 6-8 in Troy through a school, community, and parent partnership.
Session 1 of the 2017-2018 school year begins September 25! 
Contact Information
Amanda Hooker, Program Director- 518-328-5382,

Hookera@troycsd.org

Melvin Rivers, Assistant Director – 518-328-5383, Riversm

@troycsd.org

Jennifer Livingston, Youth Empowerment Coordinator (CEO) – 518-328-5381, 

livingstonj@troycsd.org

Troy Middle School Main Office- 518-328-5304

TMS Front Desk, for calls during program hours 3:30-5:30, 328-5239
TMS Health Office- 518-328-5320


TCSD Transportation Department – 518-328-5439
Learning Centers
Troy Middle School – Monday through Thursday
1976 Burdett Ave
Troy, NY 12180
The Arts Center of the Capital Region – Tuesdays
265 River Street
Troy, NY 12180
518-273-0552
Troy TKD
615 Pawling Ave
Troy, NY 12180
518-424-5308
Fashion meets function in the Wearable Technologies Club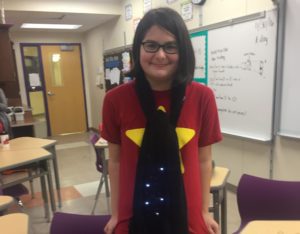 Part of the 21st Century After-school Program, the Wearable Technologies Club explores technologies for building circuits that can be worn. Students use soft materials like conductive fabrics and thread, as well as more traditional electronic components. Learn more.