Classes are canceled until at least April 15.
Please be advised that this situation is fluid and ever-evolving. We are making decisions with the information we have at this time.  This information will be updated frequently. Please continue to check back for the most current information.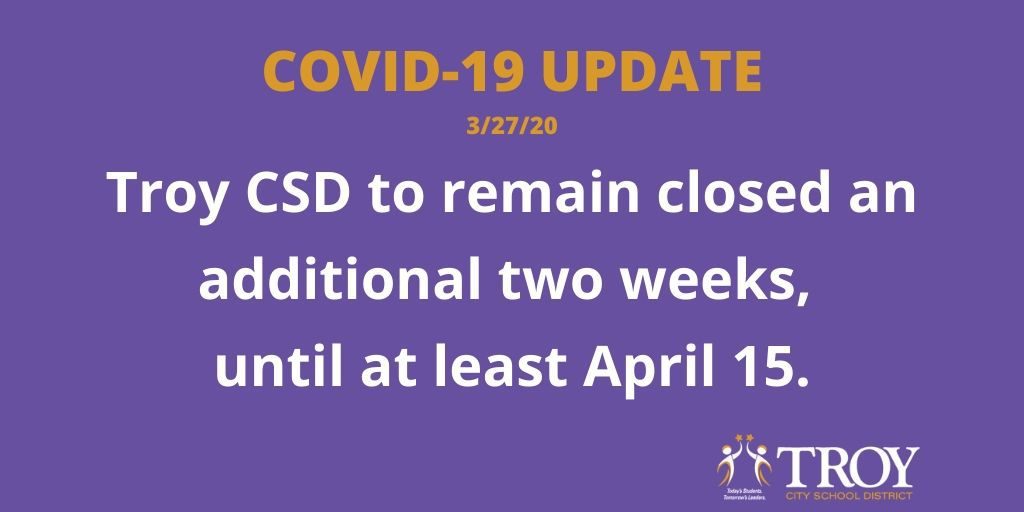 April 1, 2020 Update Regarding Spring Recess
Per Governor Cuomo's Executive Order, the Troy City School District will remain closed through April 14, so as to limit the spread of the COVID-19 pandemic. As of right now, we are scheduled to return to school on April 15, even though this was originally scheduled to be our spring break.
Per the Executive Order, in order to meet the state regulation that requires our students to have 180 days of instruction, our school district must continue to provide remote learning, meals for students and childcare for essential workers each weekday through April 14. This includes Good Friday on April 10, and the week we had previously scheduled as spring recess.  To be clear, due to this Executive Order, there is no spring recess this year.  
The Governor has said he will reassess whether to extend the statewide school closures in two-week increments. We understand there is a real possibility that this closure may get extended. We encourage families to continue to check their email and this website for additional information.
Messages from the Superintendent
March 26, 2020, Superintendent John Carmello addresses community – YouTube 
March 15, 2020 letter to families
March 12, 2020 letter to families
March 4, 2020 letter to families
Frequently Asked Questions
Please consult this list of FAQs regarding schedule changes, NYSED requirements, food service information and events.
Meals
We will continue to provide breakfast and lunch for any student who needs it. Breakfast and lunch will be served at Troy High School from 9:00 a.m. to 12:00 noon daily, starting Wednesday, March 18. Any student may come and pick up a "grab-and-go" bag during these times.
Beginning Monday, March 30, we will be changing the way we transport students to pick up their meals. We ask that riders please call the day before and request a ride.  Please be advised, you may experience longer than usual wait times as we fine-tune this procedure.
To schedule a ride to and from Troy High School, please call the following number the night before: 518-266-9330.
The Boys and Girls Club is also offering meals between the hours of 11:30 a.m. and 12:30 p.m. at the following locations: Griswold Heights, Corliss Park, Arnold E. Fallon, Martin Luther King, Margaret W. Phalon, Catherine Sweeny and John P. Taylor.
Childcare Resources
The Capital District YMCA has extended care to cover "essential" workers. The school-age childcare offers new locations, a daily rate, and financial assistance. Visit our Childcare Resources page for additional information. 
Food and Community Resources
Please check this list for resources from Troy and the surrounding areas in regards to meals and other services. 
Learning
Teachers have used the March 16 Professional Development day to work in grade-level teams and departments to prepare resources for students, both digitally and in hard copies. Teachers have been advised to be available for questions from students and parents. Please consult with your teacher on the best way to communicate. Click here to access our Digital Learning Resources by grade level and subject. 
Other Resources